Características clínicas y laboratoriales de pacientes adultos ambulatorios con Chikungunya del Hospital Nacional de Itauguá de Paraguay durante la epidemia 2022-2023.
Palabras clave:
Chikungunya- Artralgias- arbovirus
Resumen
Introducción: La infección aguda por chikungunya produce una infección auto-limitada caracterizada principalmente por fiebre alta, artralgias, artritis, cefalea, mialgias y exantema pruriginoso; una minoría presenta síntomas persistentes que puede evolucionar a la cronicidad.
Objetivo: describir las características clínicas y laboratoriales de pacientes adultos ambulatorios con chikungunya en un hospital de referencia durante la epidemia del 2022-2023 en Paraguay.
Materiales y Método: estudio descriptivo de corte trasversal de pacientes adultos con chikungunya que consultaron en el Hospital Nacional de Itauguá entre enero-marzo de 2023.
Resultados: Se incluyeron 140 pacientes entre 19 y 79 años (edad media: 46,6±13,6), 77,9% del sexo femenino y 89,3% del departamento Central. El 72,9% de los pacientes fueron confirmados por RT-PCR y el resto por la clínica o serología. El 48,6% tenía alguna comorbilidad, el 65% se encontraba en la fase aguda, y el resto en la fase subaguda (35%). Los síntomas más frecuentes fueron la poliartralgia (96,4%); artritis (98,6%), fiebre (95,7%), astenia (100%), mialgias (96,4%), cefalea (82,9%), exantema (95%). Los síntomas gastrointestinales fueron menos frecuentes; náuseas (37%), vómitos (15,7%) y diarrea (20%). Entre los principales hallazgos laboratoriales se encontraron la proteína C reactiva aumentada (45,7%), leucopenia (23,6%), eritrosedimentación aumentada (27,9%), citólisis hepática leve (13,6%).  Todos fueron tratados con paracetamol; el 60,4% y el 87,8% de los pacientes en fase aguda y subaguda recibieron AINES, respectivamente.  
Conclusión: La combinación de fiebre alta y artralgia severa fue el rasgo característico de la infección por el virus chikungunya en la epidemia en Paraguay.
Descargas
Los datos de descargas todavía no están disponibles.
Citas
Ministerio de Salud Pública y Bienestar Social, Dirección General de Vigilancia Sanitaria. Arbovirosis Internet. 2023 (citado el 8 de septiembre de 2023). URL.
Silva LA, Dermody TS. Chikungunya virus: epidemiology, replication, disease mechanisms, and prospective intervention strategies. J Clin Invest. 2017;127(3):737-749. https://doi.org/10.1172/JCI84417
Yactayo S, Staples JE, Millot V, Cibrelus L, Ramon-Pardo P. Epidemiology of Chikungunya in the Americas. J Infect Dis. 2016;214(suppl 5):S441-S445. https://doi.org/10.1093/infdis/jiw390
Rahman MM, Been Sayed SJ, Moniruzzaman M, Kabir AKMH, Mallik MU, Hasan MR, Siddique AB, Hossain MA, Uddin N, Hassan MM, Chowdhury FR. Clinical and Laboratory Characteristics of an Acute Chikungunya Outbreak in Bangladesh in 2017. Am J Trop Med Hyg. 2019;100(2):405-410. https://doi.org/10.4269/ajtmh.18-0636
Sánchez JS, Cañón AM, Lombo JC. Subacute and chronic symptoms of chikungunya fever in a group of adults in Colombia. Biomedica. 2019;39(3):587-594. https://doi.org/10.7705/biomedica.4350
Khongwichit S, Chansaenroj J, Chirathaworn C, Poovorawan Y. Chikungunya virus infection: molecular biology, clinical characteristics, and epidemiology in Asian countries. J Biomed Sci. 2021;28(1):84. https://doi.org/10.1186/s12929-021-00778-8
Silva JVJ Jr, Ludwig-Begall LF, Oliveira-Filho EF, Oliveira RAS, Durães-Carvalho R, et al. A scoping review of Chikungunya virus infection: epidemiology, clinical characteristics, viral co-circulation complications, and control. Acta Trop. 2018;188:213-224. https://doi.org/10.1016/j.actatropica.2018.09.003
de Lima STS, de Souza WM, Cavalcante JW, da Silva Candido D, Fumagalli MJ, et al. Fatal Outcome of Chikungunya Virus Infection in Brazil. Clin Infect Dis. 2021;73(7):e2436-e2443. https://doi.org/10.1093/cid/ciaa1038
Blettery M, Brunier L, Polomat K, Moinet F, Deligny C, Arfi S, et al. Brief Report: Management of Chronic Post-Chikungunya Rheumatic Disease: The Martinican Experience. Arthritis Rheumatol. 2016; 68(11):2817-24. https://doi.org/10.1002/art.39775
Pimentel R, Skewes-Ramm R, Moya J. Chikungunya en la República Dominicana: lecciones aprendidas en los primeros seis meses. Rev Panam Salud Pública. 2014; 36(5):336-41. URL.
Thiberville SD, Moyen N, Dupuis-Maguiraga L, Nougairede A, Gould EA, Roques P, de Lamballerie X. Chikungunya fever: epidemiology, clinical syndrome, pathogenesis and therapy. Antiviral Res. 2013;99(3):345-70. https://doi.org/10.1016/j.antiviral.2013.06.009
Anwar S, Taslem Mourosi J, Khan MF, Ullah MO, Vanakker OM, Hosen MJ. Chikungunya outbreak in Bangladesh (2017): Clinical and hematological findings. PLoS Negl Trop Dis. 2020;14(2):e0007466. https://doi.org/10.1371/journal.pntd.0007466
Ahmed SZ, Ahmed Z, Mukhtar KN, Abbas SA. An Index Case of Diffuse Alveolar Hemorrhage Secondary to Chikungunya. Turk Thorac J. 2020;21(1):69-72. https://doi.org/10.5152/TurkThoracJ.2019.18005
Borgherini G, Poubeau P, Staikowsky F, Lory M, Le Moullec N, Becquart JP, Wengling C, Michault A, Paganin F. Outbreak of chikungunya on Reunion Island: early clinical and laboratory features in 157 adult patients. Clin Infect Dis. 2007;44(11):1401-7. https://doi.org/10.1086/517537
Huits R, De Kort J, Van Den Berg R, Chong L, Tsoumanis A, et al. Chikungunya virus infection in Aruba: Diagnosis, clinical features and predictors of post-chikungunya chronic polyarthralgia. PLoS One. 2018;13(4):e0196630. https://doi.org/10.1371/journal.pone.0196630
Natrajan MS, Rojas A, Waggoner JJ. Beyond Fever and Pain: Diagnostic Methods for Chikungunya Virus. J Clin Microbiol. 2019;57(6):e00350-19. https://doi.org/10.1128/JCM.00350-19
Johnson BW, Goodman CH, Holloway K, de Salazar PM, Valadere AM, Drebot MA. Evaluation of Commercially Available Chikungunya Virus Immunoglobulin M Detection Assays. Am J Trop Med Hyg. 2016;95(1):182-192. https://doi.org/10.4269/ajtmh.16-0013
Flórez-Álvarez L, Cardona-Arias JA. Metanálisis sobre la utilidad de ELISA, PCR e inmunocromatografía en el diagnóstico de chikungunya. Rev Panam Salud Publica. 2017;41:e163. https://doi.org/10.26633/RPSP.2017.163
Prat CM, Flusin O, Panella A, Tenebray B, Lanciotti R, Leparc-Goffart I. Evaluation of commercially available serologic diagnostic tests for chikungunya virus. Emerg Infect Dis. 2014;20(12):2129-32. https://doi.org/10.3201/eid2012.141269
Yap G, Pok KY, Lai YL, Hapuarachchi HC, Chow A, Leo YS, Tan LK, Ng LC. Evaluation of Chikungunya diagnostic assays: differences in sensitivity of serology assays in two independent outbreaks. PLoS Negl Trop Dis. 2010;4(7):e753. https://doi.org/10.1371/journal.pntd.0000753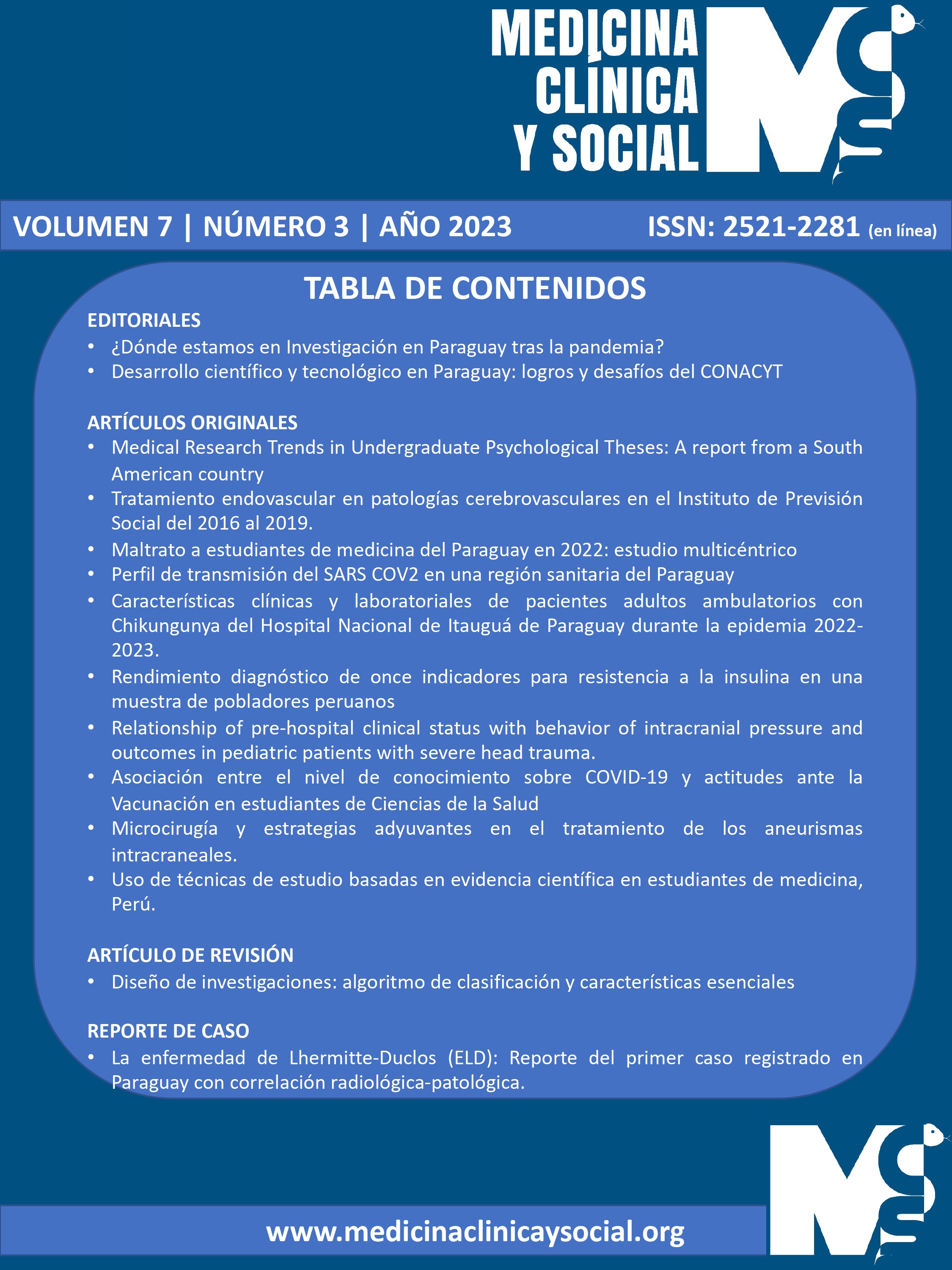 Descargas
Sección
Artículos Originales
Licencia
Derechos de autor 2023 Dora Montiel-Jarolín, Margarita Samudio
Esta obra está bajo una licencia internacional Creative Commons Atribución 4.0.