Medical Research Trends in Undergraduate Psychological Theses: A report from a South American country
Palabras clave:
Research, undergraduate, psychological, Peruvian, universities
Resumen
Introduction: Psychological research can be conducted by researchers and by undergraduate or postgraduate students. At the undergraduate level, psychological research is especially challenging because of the limited ability of students to develop coherent and logical research problems and methodological approaches. Objective: This study aimed to identify the main research trends in undergraduate psychological theses at Peruvian universities. Quantitative and qualitative research design trends were identified as specific objectives. Methods: A descriptive and retrospective systematic review of psychological research thesis of Peruvian undergraduate students was conducted, starting the data extraction process starting with RENATI database for an initial screening phase. The data analysis was conducted in two phases.  Results: The data were organized according to the following categories: sex of the authors, universities (1–5) according to their ranking, year of publication of the thesis, number of authors, designs, type of methodology, and topic of publication. Descriptive statistics were calculated on the basis of these categories. In the next phase, lexicometric and statistical textual analyses were used to identify research trends. Discussion: The main results showed that different topics were predominantly framed within the clinical and health psychology line of research, mainly those related to coping styles, psychological stress, and well-being.
Descargas
Los datos de descargas todavía no están disponibles.
Citas
Peifer JS. Context and reasons for bolstering diversity in undergraduate research. Front Psychol 2019; 10: 336. https://doi.org/10.3389/fpsyg.2019.00336
American Psychological Association. APA divisions; 2023. https://www.apa.org/about/division
Wieczorek O, Unger S, Riebling J, Erhard L, Koß C, Heiberger R. Mapping the field of psychology: Trends in research topics 1995–2015. Scientometrics 2021; 126: 9699–731. https://doi.org/10.1007/s11192-021-04069-9
McKelvie S, Standing LG. Teaching psychology research methodology across the curriculum to promote undergraduate publication: An eight-course structure and two helpful practices. Front Psychol 2018; 9, 2295. https://doi.org/10.3389/FPSYG.2018.02295/EXHIBIT
Ciocca DR, Delgado G. The reality of scientific research in Latin America; an insider's perspective. Cell Stress Chaperones 2017; 22(6): 847–52. https://doi.org/10.1007/S12192-017-0815-8
Hernández RM, Marino-Jiménez M, Forton YR, Sánchez N. Research in University Students: Real Needs for the Implementation of a Formative Research Program. Academia, 2020; 20–21: 154–76. https://doi.org/10.26220/ACA.3445
León FR. ¿Qué significa una tesis de investigación en psicología en el Perú? Persona 2016; 19: 151-66. https://doi.org/10.26439/persona2016.n019.977
Mamani-Benito O, Tito-Betancur M, Rodríguez-Alarcón J, Mejía C. Are psychology theses published in Peru? An analysis of three top-ranked universities in the Scimago ranking. Propósitos Representaciones 2021; 9(2): 1-9 https://doi.org/10.20511/pyr2021.v9n2.1202
Aiquipa JJ, Ramos CM, Curay R, Guizado LL. Factores implicados para realizar o no realizar tesis en estudiantes de psicología. Propósitos Representaciones 2018; 6(1): 21–82. https://doi.org/10.20511/PYR2018.V6N1.180
Consejo Nacional de Ciencia, Tecnología e Innovación Tecnológica (CONCYTEC). Política nacional para el desarrollo de la ciencia, tecnología e innovación tecnológica - CTI. CONCYTEC; 2019. URL.
Turpo-Gebera O, Gonzales-Miñán M, García-Peñalvo F, Tito FP. La investigación universitaria sobre el blended learning en Perú: Campos de conocimiento y tendencias metodológicas. Rev Educ 2020; 2: 498-511. https://dx.doi.org/10.15517/revedu.v44i2.40743
Nina-Condori M. Las tesis psicoeducativas en la Escuela Profesional de Psicología de la Unsa, 1993 – 2018 [Universidad Nacional de San Agustín de Arequipa, Master Thesis], 2019. URL.
Chalco Fernández JC. Panorama de la investigación del cyberbullying escolar en la educación básica peruana, decenio 2010-2020. Rev Educ 2021; 19(19): 11–31. https://doi.org/10.51440/unsch.revistaeducacion.2021.19.188
Mamani-Benito O J. Methodological Quality and Characteristics of the Undergraduate Psychology Theses of a Private University of Peru. Propositos Representaciones 2018; 6(2): 321–38. https://doi.org/10.20511/pyr2018.v6n2.224
Wickens TD. Multiway contingency table analysis for the social sciences. Lawrence Erlbaum Associates, Inc; 1989.
Ruiz Bueno A. Trabajar con Iramuteq: Pautas; 2017. URL.
Ratinaud P. IRaMuTeQ 0.7 alpha 2. Interface de R pour les Analyses Multidimensionnelles de Textes et de Questionnaires; 2020. http://iramuteq.org/
Sousa YSO, Gondim SMG, Carias IA, Batista JS, Machado KCMD. El uso del software Iramuteq en el análisis de datos de entrevistas. Pesquisas Práticas Psicossociais 2020; 15(2): 1-19. URL.
Rodríguez YC, Cósar-Quiroz J, Arredondo-Sierralta T, Sihuay-Torres K. Producción científica de tesis sustentadas y publicadas por estudiantes de Odontología. Ed Med 2018; 19: 85-9. https://doi.org/10.1016/j.edumed.2017.04.002
Velandia MS, Salamanca Y, Alarcón MF. Psicología de la salud en Colombia: formación e investigación. Psychologia 2018; 12(2): 75-86. https://doi.org/10.21500/19002386.3304
Rey C. Tendencias de proyectos de investigación en psicología clínica en Colombia. Psicología desde el Caribe 2012; 29(1): 176-204. URL.
Lozada-Martinez ID, Carvajal-Bautista J, Picón-Jaimes YA, Dominguez-Alvarado G, Cabrera-Vargas LF, Torregrosa-Almonacid L, et al. Surgical research in Colombia part 1: scientific and academic productivity of the Colombian research groups in surgery. Ann Med Surg 2022; 77: 103667. https://doi.org/10.1016/j.amsu.2022.103667
Harton HC, Lyons PC. Gender, empathy, and the choice of the psychology major. Teach Psychol 2003; 30(1): 19-24. https://doi.org/10.1207/S15328023TOP3001_03
Odic D, Wojcik EH. The publication gender gap in psychology. Am Psychol 2019; 75(1): 92-103. https://doi.org/0.1037/amp0000480
Gruber J, Mendle J, Lindquist KA, Schmader T, Clark LA, Bliss-Moreau E, et al. The Future of Women in Psychological Science. Perspect Psychol Sci 2021; 16(3): 483–516. https://doi.org/10.1177/1745691620952789
Atamari-Anahui N, Sucasaca-Rodríguez C, Cruz MS, Jhonatan A. Publicación científica de asesores de tesis de pregrado en una escuela de medicina de Cusco, Perú. Invest Ed Med 2016; 5(20): 279-80. URL.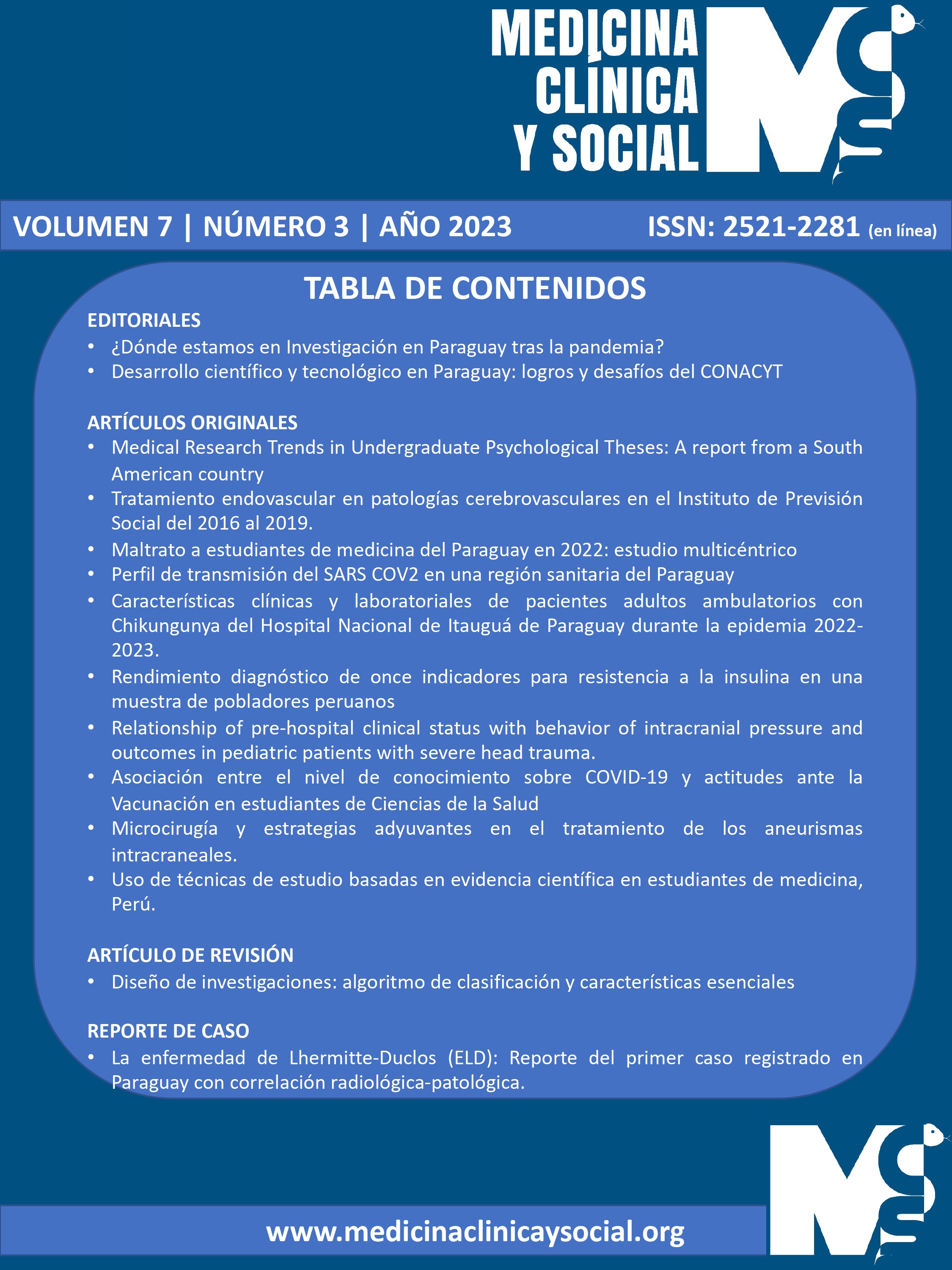 Descargas
Sección
Artículos Originales
Licencia
Derechos de autor 2023 Tomás Caycho-Rodríguez, Carlos Carbajal-León, Nicole Oré-Kovacs, Daniel E. Yupanqui-Lorenzo, Ximena Llerena-Espezúa, Alvaro Gabriel Becerra Meza, Julio Torales, Romy Díaz Fernandez
Esta obra está bajo una licencia internacional Creative Commons Atribución 4.0.