Psychological impact of COVID-19 pandemic among healthcare workers in Paraguay: A descriptive and preliminary study
Palabras clave:
Healthcare workers; mental health; COVID-19; anxiety; depression; post-traumatic stress; psychological distress
Resumen
Introduction: Healthcare workers exposed to SARS-CoV-2 are vulnerable to psychological distress. The goal of this study is to evaluate the psychological impact of exposure to the SARS-CoV-2 among healthcare workers in Paraguay. Methodology: A descriptive cross-sectional study was carried out in 5 tertiary hospitals in the Central, San Pedro and Caaguazú Departments of Paraguay during the COVID-19 pandemic from April to June 2020. The pilot study included 125 healthcare workers as participants, 25 for each hospital. Demographic data and occupational exposure data were collected with an ad-hoc questionnaire. Symptoms of depression and anxiety were evaluated employing the Patient Health Questionnaire-9, and the Generalized Anxiety Disorder scale-7. The prevalence of post-traumatic stress was determined using the Post-Traumatic Stress Disorder Check List-C. Results: Of the 125 participants, 68 (54.8%) were doctors, 37 (29.8) nurses, 7 (5.6%) biochemists, 3 (2.4%) obstetricians, and 9 (7.3%) other healthcare workers. Most participants were females (86 [68.8%]), with an average age of 33.8 years (SD ± 7.4), single (71 [56.8%]), with a postgraduate educational level (83 [66.4%]), and reporting a junior level of work experience (52 [41.6%]). A total of 71 (57.3%) were classified as high-risk healthcare workers after exposure to SARS-CoV-2. 61 (48.8%) of participants presented symptoms of depression, and 68 (54.4%) presented symptoms of anxiety. A small group reported symptoms of post-traumatic stress (9 [7.2%]). Conclusion: Healthcare workers in Paraguay reported a significant prevalence of depressive and anxious symptoms during the COVID-19 pandemic. These findings lend support to the idea that healthcare workers are vulnerable to psychological distress and that they may require specific mental health interventions.
Descargas
Los datos de descargas todavía no están disponibles.
Citas
Mohindra R, R Mahindra, Suri V, Bhalla A, Singh SM. Issues relevant to mental health promotion in frontline health care providers managing quarantined/isolated COVID19 patients. Asian J Psychiatr. 2020;51:102084. https://doi.org/10.1016/j.ajp.2020.102084
Brooks SK, Webster RK, Smith LE, Woodland L, Wessely S, Greenberg N, et al. The psychological impact of quarantine and how to reduce it: rapid review of the evidence. Lancet. 2020;395(10227):912-920. https://doi.org/10.1016/S0140-6736(20)30460-8
Chua SE, Cheung V, Cheung C, McAlonan GM, Wong JW, Cheung EP, et al. Psychological effects of the SARS outbreak in Hong Kong on high-risk health care workers. Can J Psychiatry. 2004;49(6):391-3. https://doi.org/10.1177/070674370404900609
Bai Y, Lin CC, Lin CY, Chen JY, Chue CM, Chou P. Survey of stress reactions among health care workers involved with the SARS outbreak. Psychiatr Serv. 2004;55(9):1055-7. https://doi.org/10.1176/appi.ps.55.9.1055
Lee AM, Wong JG, McAlonan GM, Cheung V, Cheung C, Sham PC, et al. Stress and psychological distress among SARS survivors 1 year after the outbreak. Can J Psychiatry. 2007;52(4):233-40. https://doi.org/10.1177/070674370705200405
Wu P, Fang Y, Guan Z, Fan B, Kong J, Yao Z, et al. The psychological impact of the SARS epidemic on hospital employees in China: exposure, risk perception, and altruistic acceptance of risk. Can J Psychiatry. 2009;54(5):302-11. https://doi.org/10.1177/070674370905400504
Lai J, Ma S, Wang Y, Cai Z, Hu J, Wei N, et al. Factors Associated With Mental Health Outcomes Among Health Care Workers Exposed to Coronavirus Disease 2019. JAMA Netw Open. 2020;3(3):e203976. https://doi.org/10.1001/jamanetworkopen.2020.3976
Lozano Díaz A, Fernández-Prados JS, Figueredo Canosa V, Martínez Martínez AM. Impactos del confinamiento por el COVID-19 entre universitarios: Satisfacción Vital, Resiliencia y Capital Social Online [Impacts of confinement due to COVID-19 among university students: Life Satisfaction, Resilience and Online Social Capital]. International Journal of Sociology of Education, Special Issue: COVID-19 Crisis and Socioeducative Inequalities and Strategies to Overcome them 2020:79-104. https://doi.org/10.17583/rise.2020.592
Rios-González CM, Palacios JM. Symptoms of Anxiety and depression during the outbreak of COVID-19 in Paraguay. Version: 1. SciELO [Preprint]. [posted 2020 Apr 24; revised; cited 2020 Jun 15]: [10 p.]. Available from: https://preprints.scielo.org/index.php/scielo/preprint/view/152
Diez-Quevedo C, Rangil T, Sanchez-Planell L, Kroenke K, Spitzer RL. Validation and utility of the patient health questionnaire in diagnosing mental disorders in 1003 general hospital Spanish inpatients. Psychosom Med. 2001;63(4):679-86. https://doi.org/10.1097/00006842-200107000-00021
Tomitaka S, Kawasaki Y, Ide K, Akutagawa M, Yamada H, Ono Y, Furukawa TA. Distributional patterns of item responses and total scores on the PHQ-9 in the general population: data from the National Health and Nutrition Examination Survey. BMC Psychiatry. 2018;18(1):108. https://doi.org/10.1186/s12888-018-1696-9
García-Campayo J, Zamorano E, Ruiz MA, Pardo A, Pérez-Páramo M, López-Gómez V, et al. Cultural adaptation into Spanish of the generalized anxiety disorder-7 (GAD-7) scale as a screening tool. Health Qual Life Outcomes. 2010;8:8. https://doi.org/10.1186/1477-7525-8-8
Vera-Villarroel P, Zych I, Celis-Atenas K, Córdova-Rubio N, Buela-Casal G. Chilean validation of the Posttraumatic Stress Disorder Checklist-Civilian version (PCL-C) after the earthquake on February 27, 2010. Psychol Rep. 2011;109(1):47-58. https://doi.org/10.2466/02.13.15.17.PR0.109.4.47-58
Spoont M, Arbisi P, Fu S, Greer N, Kehle-Forbes S, Meis L, et al. Screening for Post-Traumatic Stress Disorder (PTSD) in Primary Care: A Systematic Review [Internet]. Washington (DC): Department of Veterans Affairs (US); 2013.
Conybeare D, Behar E, Solomon A, Newman MG, Borkovec TD. The PTSD Checklist-Civilian Version: reliability, validity, and factor structure in a nonclinical sample. J Clin Psychol. 2012;68(6):699-713. https://doi.org/10.1002/jclp.21845
Weathers, F.W.; Litz, B.T.; Herman, D.S.; Huska, J.A.; Keane, T.M. The PTSD Checklist: Reliability, validity, and diagnostic utility. Int. Soc. Traum. Stress Stud. 1993; 2:90-92.
Guiroy A, Gagliardi M, Coombes N, Landriel F, Zanardi C, Camino Willhuber G, et al. COVID-19 Impact Among Spine Surgeons in Latin America. Global Spine Journal. 2020. https://doi.org/10.1177/2192568220928032
Kang L, Ma S, Chen M, Yang J, Wang Y, Li R, et al. Impact on mental health and perceptions of psychological care among medical and nursing staff in Wuhan during the 2019 novel coronavirus disease outbreak: A cross-sectional study. Brain Behav Immun. 2020;87:11-17. https://doi.org/10.1016/j.bbi.2020.03.028
Qiu J, Shen B, Zhao M, Wang Z, Xie B, Xu Y. A nationwide survey of psychological distress among Chinese people in the COVID-19 epidemic: implications and policy recommendations. Gen Psychiatr. 2020;33(2):e100213. https://doi.org/10.1136/gpsych-2020-100213
Cai Q, Feng H, Huang J, Wang M, Wang Q, Lu X, et al. The mental health of frontline and non-frontline medical workers during the coronavirus disease 2019 (COVID-19) outbreak in China: A case-control study. J Affect Disord. 2020;275:210-215. https://doi.org/10.1016/j.jad.2020.06.031
Lu W, Wang H, Lin Y, Li L. Psychological status of medical workforce during the COVID-19 pandemic: A cross-sectional study. Psychiatry Res. 2020;288:112936. https://doi.org/10.1016/j.psychres.2020.112936
Que J, Shi L, Deng J, Liu J, Zhang L, Wu S, et al. Psychological impact of the COVID-19 pandemic on healthcare workers: a cross-sectional study in China. Gen Psychiatr. 2020;33(3):e100259. https://doi.org/10.1136/gpsych-2020-100259
Torales J, O'Higgins M, Castaldelli-Maia JM, Ventriglio A. The outbreak of COVID-19 coronavirus and its impact on global mental health. International Journal of Social Psychiatry 2020;66(4):317-320. https://doi.org/10.1177/0020764020915212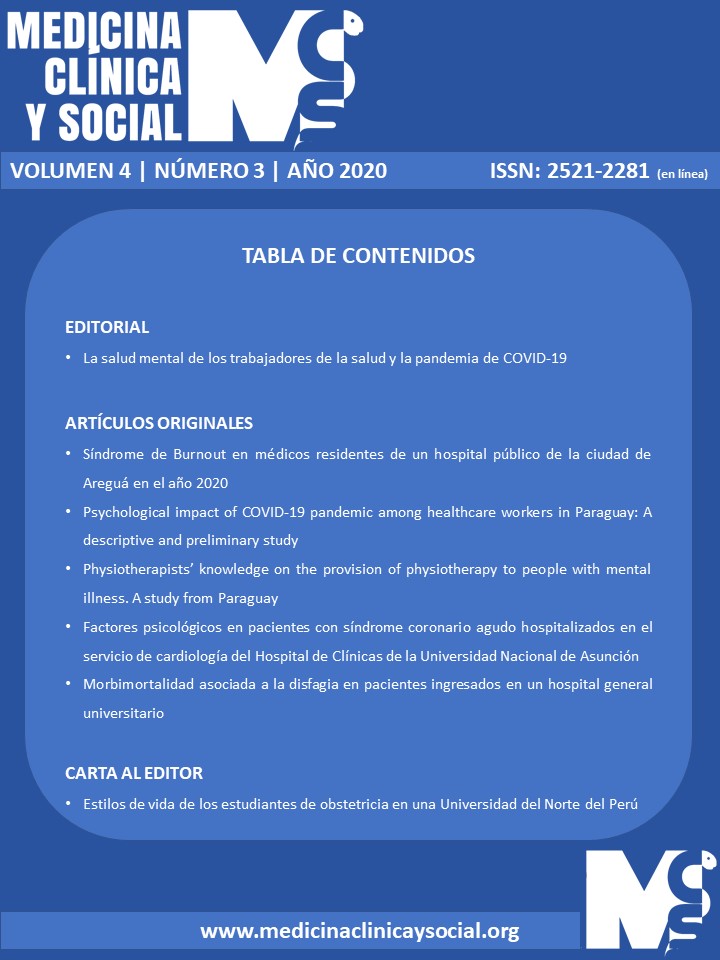 Descargas
Sección
Artículos Originales
Licencia
Derechos de autor 2020 Jorge Villalba-Arias, Gladys Estigarribia, José Andrés Bogado, Julieta Méndez, Santiago Toledo, Israel González, João Mauricio Castaldelli-Maia, Antonio Ventriglio, Julio Torales
Esta obra está bajo una licencia internacional Creative Commons Atribución 4.0.